Animistic Beliefs was born to perform. They live to play live, and thrive on stage. They hail from Rotterdam but flourish in dark, strobe lit basements during the witching hours. It is there that they breath new life into electro by twisting, turning and contorting it into new forms that are utterly spellbinding and occult.
They tinker with fluid melodies and rehash them into new entities, experimenting with textures whilst effortlessly deviating from meditative to manic, destructive to danceable in an instant. With a look as stylish as their sound, the young pair reimagine UK sounds, IDM intricacies and Detroit mechanisms via their impressive collection of vintage gear and DIY modular synths. They offset fast paced robotic drum-machine patterns with softer melancholic timbres and dehumanised vocals from other dimensions. They employ a proto-futuristic palpability to their thumping live sets, utilising their organic chemistry to create improvised beats plucked from thin air and converted into other-worldly amalgamations.
They have already played in critically acclaimed venues and festivals such as De School, Griessmuehle, Rewire, on NTS Radio and also at a secret rave in Zurich which was mysteriously curated by illustrious fashion brand Gucci.
As well as their extraordinary live shows, Animistic Beliefs continue to do unfamiliar things with familiar sounds in the studio. Their debut EP Sinuous Gullies released on Solar One Music's sub-label Between Places sold out immediately, as did the repress. Add to that a split cassette with Legowelt as Audiosport 8, their Molucca Quake EP on Cultivated Electronics, and you get a transparent picture of the duo's unabated work ethic and crystalline production integrity.
In 2019 the duo released their debut album Mindset:Reset which showcased their multifaceted style and combined their fascination for both technology and mythology. The album was accompanied by two captivating music videos brought to life by media and performance artist Jeisson Drenth and filmmaker Casper Buijtendijk. Both the music and artwork were highly praised by various media outlets and DJ Mag named it the release of the month.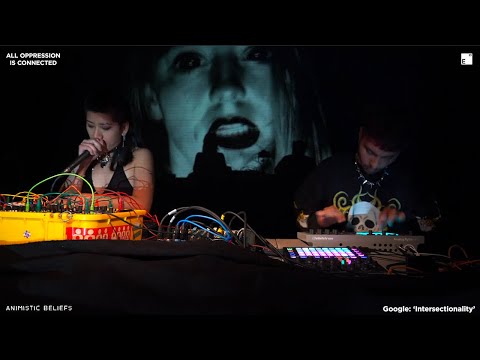 Animistic Beliefs live at Warehouse Elementenstraat