Das Ding has been living and breathing electro since the 1980s. He is a a lifelong synth addict who can now fully communicate through his machines. With them, he can take you to all sorts of exciting and adventurous places, from cosmic futuristic galaxies to darker, more menacing worlds, always with a sense of fun.
Because of its rich detail, emotion and narrative, Das Ding's music works as well on a dance floor as it does at home for closer listening.
Born Danny Bosten, he is somehow one of Rotterdam's undiscovered gems despite a body of work that takes in his own cult and long running cassette label Tear Apart Tapes, and releases on the esteemed likes of Minimal Wave, Pinkman and Electronic Emergencies. These include his standout Why Is My Life So Boring and Missing Tapes albums that brought new wave, industrial, synth pop and EBM influences to his always elaborate synth patterns and dynamic drum lines. His modular techno output is also nothing less than fresh, freeform and timeless.
Preferring the straight sounds of the classic synths he has been buying since 1980, this electro wizard likes the challenge of cooking up inter-dimensional music with the most simplistic elements. "I'm a fan of the classic 'the whole is more than the sum of its parts' synergy," he says. "The machines inspire the music, they want to express themselves. No expensive synths for me."
Taking inspiration from the likes of Cabaret Voltaire, Fad Gadget and Kraftwerk, Das Ding makes music for dark clubs late at night, but does so in cinematic ways. He doesn't DJ, but has two different live sets: one is strictly song-based and another consists of improvised modular jams that are innovative and improvised from start to finish. Each one unfolds like a real story with a start, middle and end, and always sink you into a state of hypnosis; a trance-like mood where the machines permeate your soul and you're locked in for the ride.
The future brings with it new EPs and LPs for the likes of Berlin's Mechatronica and Power Station, as well as a first album under his Schedelvreter alias since 1986. It is there that Das Ding explores a dark, abstract, experimental side of electronic music. Wherever he takes you, though, it is always a thrilling experience.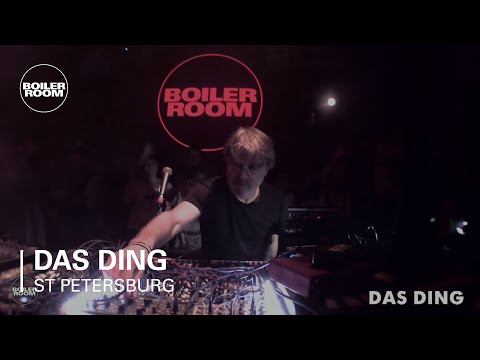 Live on Boiler Room, St. Petersburg 2017
Live from Panama Racing Club
Incorrect soundcloud url